How to download the Smartphone App - Payslip Portal:
Click here for an Employee Smartphone App Demo – you can share this with your employees if you feel it is helpful to them.
How do Employees get invited to the Payslip Portal?
Payroll Sorted will send out the first batch of invitations (on our first pay run with you) however any new starters/leavers will need to be administered by your organisation in line with your own employee on/off boarding processes. This can be managed via the portal under the Employees tab.
Please note: The employee will not appear in the portal to send the invite to until you have approved your pay run (if you have sign off in place). If you do not have sign off, they will appear in the portal when you receive your payroll pack.
Click here to find out how to send invitations.
What do the employees need to do when they accept the invitation?
Below is an example of an employee invitation. To gain access to the portal, they will need to click the 'Accept' link on the invitation email to set up their password.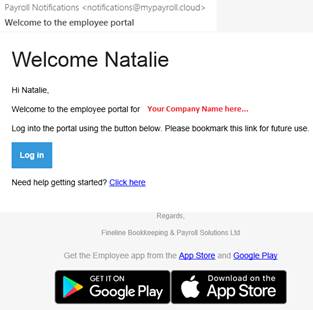 The portal is accessible via a web browser or by downloading the smart phone app.
The app appears as per the below screenshot on the smart phone:

If you were already using the Brightpay Portal prior to working with Payroll Sorted:
With the move to the new payslip platform (under Payroll Sorted), the Bright Pay app needs to be reset. To do this the following steps will need to be followed:
When the email notifying you of the payslip is received - click on the link and go through the "reset password" (you can use the same one as previously)
Then on the app:

Click on the picture icon on top right hand side
Click on the + sign
Re-enter the password – GO

Then you should be able to access all current and past payslips.